In Colorado, there are a variety of seasons to fill your hunt with. Four rifle seasons, a month long archery season in addition to a deer and elk muzzleloader season.
Both of our ranches, just north of Meeker, are available for deer and elk hunts.
Christmas Tree Ranch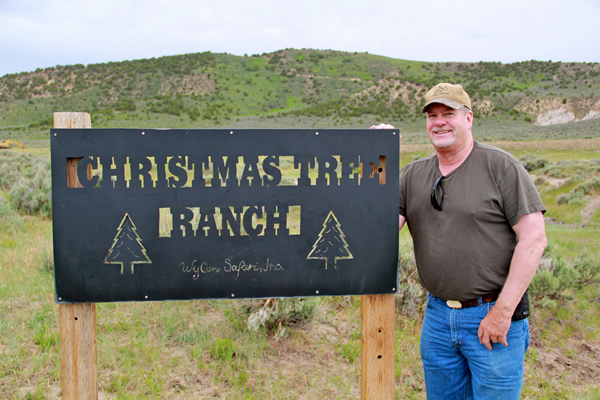 The Christmas Tree Ranch is 33 miles north of Meeker located in the Danforth Hills. This ranch is 2,300 deeded acres and approximately 2,000 acres of BLM intermingled for a total of 4,300 acres.
The Christmas Tree ranch borders approximately 15,000 acres of BLM that is landlocked by private land. In addition to plenty of space to start your adventure, this ranch is included in the direct migration route of part of the White River elk herd, consisting of around 5,000 elk.
Most hunts are unguided and can be done with an ATV or using a 4-wheel drive on the private ground. We do have guided hunts on a very limited basis, please contact us for more information if you are interested in those.
There are approximately 130 acres of alfalfa fields, split up in four different canyons. We hay these fields and leave the regrowth for the wildlife and hunt over springs and water tanks. There are several hunter blinds spread throughout the ranch in game crossings. Please keep in mind, the less movement while hunting, the better. Your movement can potentially scare away your target. Using the blinds as much as possible increases the chance of a successful hunt by as much as 50% and higher (depending on the hunters shooting and hunting abilities).
We will show you the boundaries and key places to sit prior to the hunt. We have seen 300" bull elk on this ranch and larger on a regular basis. Area 10, to the west of the Christmas Tree ranch, is an area that can take over 20 years to draw. As a result, we get those big bulls coming over to us in Area 11, where you will be hunting.
Elk tags are over the counter for the second and third rifle seasons. The first and fourth rifle seasons are on a draw. The deadline to apply is around April 1st of each year, please double check the final deadline when making your arrangements. *There is a possibility of left-over tags each year for the first and fourth rifle seasons, but not guaranteed.
Archery elk starts around the last Saturday in August and runs till the last day of September. Elk tags for archery are over the counter, no draw.
Muzzleloader elk starts around September 10 and runs for 9 days. The season dates for all hunts vary each year, so call for the actual start times. Double check dates as you finalize plans.
A group of four hunters for each 5-day hunt will reserve the entire ranch for that group. This is a fun hunt with big canyons - flat on the bottom and flat on top. There are roads throughout the property to access the top, bottom and everything in between. Please contact us in early December to book a hunt spot. The success rate is good, but again, depends on the hunters shooting and hunting ability. A guide for the group can be hired, if needed or desired. Please call with specific questions and we can tailor your hunt to fit your needs. Looking forward to talking with you!
9 Mile Ranch
On Highway 13, just 10 minutes north of Meeker is our second ranch, 9 Mile. Each year our hunters harvest between 20-25 bull elk off of this 800-acre ranch.
Four miles from the 9 Mile Ranch, as the crow flies, is a coal mine. Several hundred head of elk reside year round with overflow to the property.
The spring fed ranch with 35 acres of alfalfa provides an oasis for the elk herd during their yearly migration. There are several hunting blinds spread throughout the ranch in game crossings. Please keep in mind, the less movement while hunting, the better. One group has hunted on the ranch for over 10 years and the ranch is known for its good water and elk habitat.
The seasons are the same and the ranch is located in Area 211. Inquire early as some seasons are booked a year in advance. Looking forward to booking your hunt.